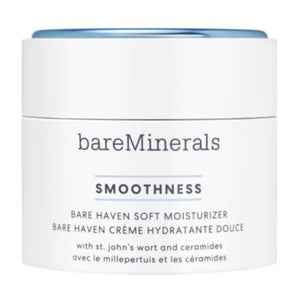 Bare Minerals: SMOOTHNESS BARE HAVEN® ESSENTIAL MOISTURIZING SOFT CREAM 

Treat your skin with our silky-smooth Bare Haven® Essential Moisturizing Soft Cream powered by Intuitive Mineral Moisture Technology™. Its formula includes a rich blend of peptides and ceramides to aid in moisture retention and diminishing fine lines, keeping your skin ultra-smooth and supple. Plus, St. John's Wort acts as a protectant to keep your complexion radiant and resilient. 

Ideal for normal and dry skin. Soft cream texture blends in effortlessly. St. John's Wort defends skin against damage. Peptides enhance resilience and diminish the appearance of fine lines and wrinkles. Ceramides provide skin with balance and suppleness. Naturally derived fragrance with subtle notes of bergamot and eucalyptus. Dermatologist tested. Non-comedogenic. Oil-free. None of Bare Mineral products are tested on animals.