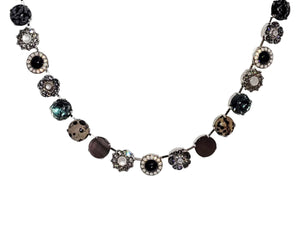 This timeless Mariana necklace is a fan favorite and is sure to be a stylish addition to any ensemble.
Necklace features

large (12mm) crystals and signature Mariana elements and is approximately 13 inches long with a 4 inch extender.
Color M3100: Nightfall from the Natural Beauty 

collection featuring Obsidian Snowflake, Pyrite, White Opal, & Silver Night.
Mariana Jewelry is handmade with nickel-free brass and is hypoallergenic.


Style: N-3084R-M3100-RO