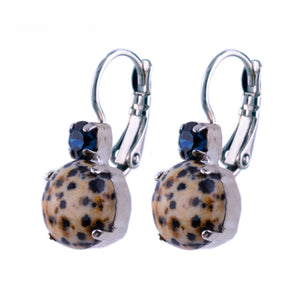 This popular earring design boasts a new semi-precious stone to add a touch of fun! 
Earrings feature a small (5mm) crystal on top and a large (12mm) semi precious stone on the bottom. Jewelry is photographed close to show detail. Actual size is approximately 1/3 inch wide and 1 inch in height. 
Color M3100: Nightfall from the Natural Beauty 

collection featuring Montana Blue and Dalmatian.
Mariana Jewelry is handmade with nickel-free brass and is hypoallergenic.


E-1037R-M3100-RO6