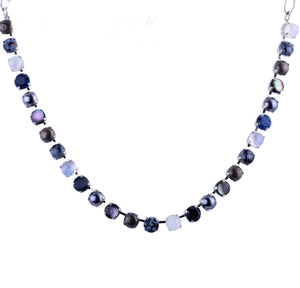 This best-selling must-have Mariana necklace is easy to wear everyday, or dress up for an evening occasion!
Necklace features round cut, medium sized (8.5mm) crystals and semi precious stones and is approximately 14 inches long with a 4 inch extender and a lobster claw closure.
Color M3100: Nightfall from the Natural Beauty 

collection featuring Obsidian Snowflake, Hematite, &  Pyrite.
Mariana Jewelry is handmade with nickel-free brass and is hypoallergenic.


N-3252-M3100-RO